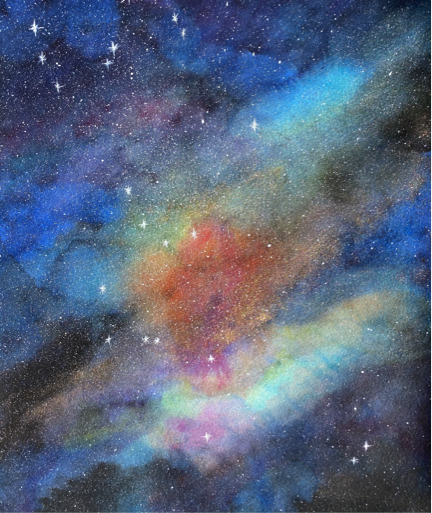 About the Journal
International Education Journal: Comparative Perspectives (IEJ:CP) is an international, peer-reviewed journal for advancing academic quality and rigor in comparative and international education research. It is the official journal of the Oceania Comparative and International Education Society (OCIES formerly ANZCIES). IEJ:CP seeks to promote scholarly discussion of the relationships among educational policy and practice, theory, and cross-disciplinary global studies.
This watercolour on paper painting, Ka Pō Hoʻihoʻi – Black as the Spectrum in Unity (2020), is the first of a developing series by Dr Nālani Wilson-Hokowhitu.
It is a celebration of Kanaka Maoli (Native Hawaiian) genealogical connections to Pō, the beginnings of creation, as an abundant source of potentiality. Born from stars, humans comprise of the same elements, such as carbon, oxygen, hydrogen, and nitrogen. As we more profoundly consider these interconnections, what does this mean to the fundamental rights of other planets?  What can we learn from Pacific and Indigenous Studies about how to more respectfully voyage into the universe?
Current Issue
Vol. 22 No. 2 (2023): Special Issue: OCIES Conference 2022
View All Issues